Mondsicheln im September 2011
Version 30.08.2011 Martin Elsaesser, www.mondatlas.de
Alte Mondsichel am 26.9.2011, von Mallorca
Die alte Mondsichel konnte am letzten Tag eines Strandurlaubs auf Mallorca leicht in der Morgendämmerung gesehen werden, bei 18° Elongation und 30 Stunden vor Neumond.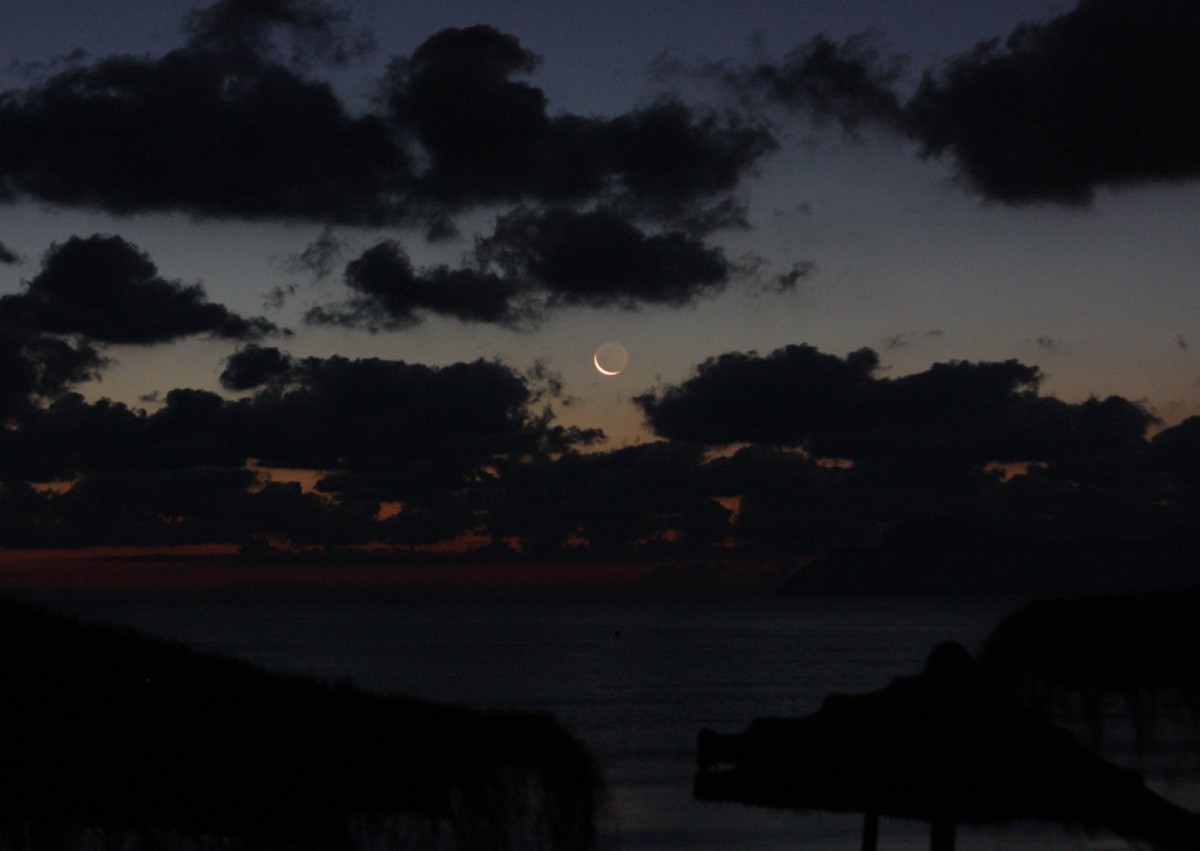 Die alte Mondsichel geht zwischen Wolken am Osthorizont auf.
Video des Mondaufgangs als Xvid .AVI
Mondsichel zu Neumond am 27.9.2011
Um den exakten geozentrischen Neumondtermin um 13:09 habe ich wieder versucht, die Mondsichel zu erfassen, um damit auch endlich die NULL zu schaffen. Leider war das Wetter recht diesig. Erst ca. 30 Minuten nach der exakten Konjunktion wurde es klar genug, um mit dem üblichen Methoden die Sichel bei der großen Elongation von 5.65° erfassen zu können. Leider konnte die Sichel nur im bearbeiteten Video gefunden werden, nicht im Livebild.
Near the exact moment of geocentric conjunction i tried (again) to observe the crescent and thus finally acchieve the NULL. Alas, the weather was quite hazy from lingering morning fog and only cleared during the day. I could detect the crescent the first time in a video captured some 30 minutes after conjunction, at an elongation of 5.65°. The crescent could not be detected in the contrast enhanced live-view, only when playing these images as a fast video later could the crescent be seen.


Die Mondsichel ca 30 Minuten nach Neumond am 27. September, bei 5.65° Elongation. Ausschnitt aus dem vollen Feld der Lu165, bei 600mm.
Video of the crescent some 30 minutes after conjunction on 27. September, at a elongation of 5.65°. Crop of processed images taken with the Lu165 with a focal length of 600mm.
Zurück zur Startseite